July 27, 2016 2:50 pm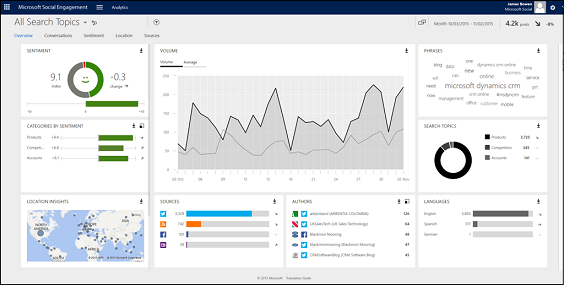 In May Microsoft announced the start of the Microsoft Dynamics CRM Spring 2016 Wave phased roll-out. The 2016 update 1 for Microsoft Dynamics CRM introduces many new features to the solution, and we've been going over them since the announcement. Today we're going to turn our attention to the enhanced social capabilities of Microsoft Dynamics CRM the Spring 2016 update has brought to us.
In a socially connected world, engagement with your customers can happen anytime or anywhere. Microsoft Social Engagement puts powerful social tools in the hands of your sales, marketing, and service teams, enabling them to connect on social media with your customers, prospects, and partners right within Microsoft Dynamics CRM or with a stand-alone app.
Discover social insights about your brand, products, and services, analyze sentiment, and identify customer intentions with the power of Azure Machine Learning. Automatically create records for cases and leads in Microsoft Dynamics CRM based on these intentions, all with the power of Microsoft Social Engagement.
With the latest release, Microsoft Social Engagement adds support for the following sources:
Forums/discussion boards
Instagram
Extended blog coverage
You can not only listen to posts and comments, but you can also monitor specific accounts. And Facebook listening has been improved thanks to a faster acquisition of posts. This is due to reduced latency through the new data acquisition of publicly available Facebook page posts and comments.
And Microsoft Social Engagement is adding geolocation support for the following sources, in addition to the location data already available for Twitter and News sources:
Forums/discussion boards
Instagram and Facebook
Geolocation of authors will be displayed in analytics widgets, post lists, and activity maps.