September 17, 2013 5:38 pm
Microsoft Dynamics 2013 will be released this Fall, and this month Microsoft published its Microsoft Dynamics CRM 2013 Release Preview Guide. The 19 page guide is organized around improvements in five areas:
Reimagined User Experience
Process Excellence and Agility
CRM on the Go
Enterprise Collaboration
Platform Enhancements
Today we're going to take a peek at the new user interface (UI):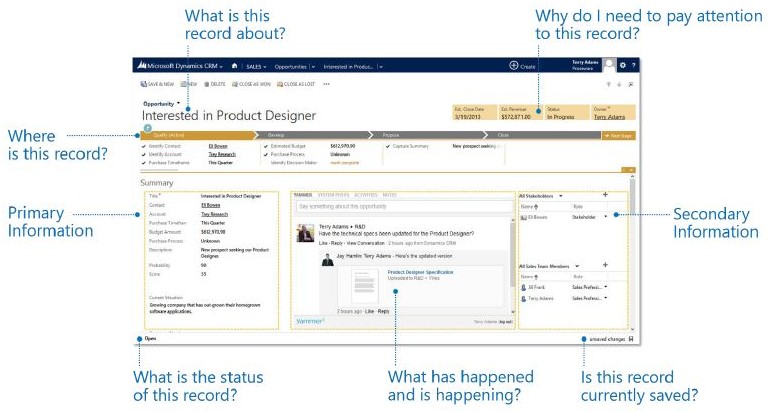 As you can see, Microsoft's aim here is to give you all the relevant information you need in one place, so you don't have to move from one application to the next or deal with pop-up windows. The new form design strikes a nice balance, as it is packed with information, yet easy to follow and use. Microsoft has designed the UI so that it maps to the way people actually work. The navigation bar drops down from the top of the screen, so that access to any record is just a click away.
Data entry has been simplified with Quick Create. As the name suggests, the tool enables users to quickly create any record by capturing key data points for the record being entered. You can add and edit Product line items to your opportunities, quotes, orders, and invoices with inline editable grids, and you can insert product details such as price, quantity, and discount directly in the grid on the form.
Microsoft Dynamics CRM has also been made more personal by the ability to store and display images. Images are stored in the CRM database using a new Image attribute type. Each entity can have an image attribute. So a record can store and display an image, such as a photograph for a contact. A Bing map showing the location can also be displayed.
When your work is streamlined, you can get more of it done in less time. And your customers will benefit as much as you do.