May 24, 2016 10:07 am
This month Microsoft announced the start of the Microsoft Dynamics CRM Spring 2016 Wave phased roll-out. The 2016 update 1 for Microsoft Dynamics CRM introduces new core CRM capabilities designed to further improve the user experience. The Spring Wave also integrates technologies from two of Microsoft's recent acquisitions, FieldOne and Adxstudio, into the Microsoft Dynamics CRM platform.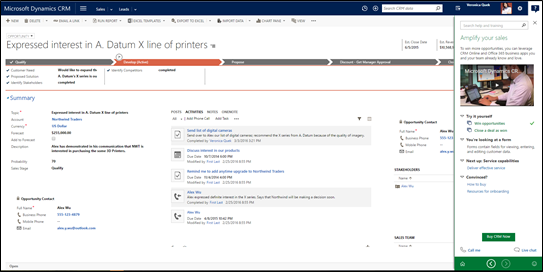 Some of the core enhancements are coming to the following:
Learning Path: Microsoft's new role-based guided navigation service
Interactive Service Hub: shows you all your vital service-related information in one place
Power BI: the Sales dashboards have been improved, and the Service dashboards include new content
FieldOne enables you to efficiently manage and deliver services to customers in the field. It provides capabilities such as scheduling, dispatching, automated routing, inventory management, customer communications, and more.
Adxstudio provides a web CRM portal and application lifecycle management. It can turn Microsoft Dynamics CRM into an application platform.
Learning Path is a new guided user experience that is tailored to you and your role. For example, if you are a salesperson, you'll see guided help just for sales people. If you are a customer service representative, you'll see the appropriate content for that role. Learning Path leads you step-by-step through specific tasks while you work in Microsoft Dynamics CRM and provides videos, ebooks, and Help topics in context just when you need them.
In this release, Microsoft is providing in-app guidance for What's New, for common tasks such as lead management in the web and mobile apps, and for onboarding an organization.