February 23, 2016 3:10 pm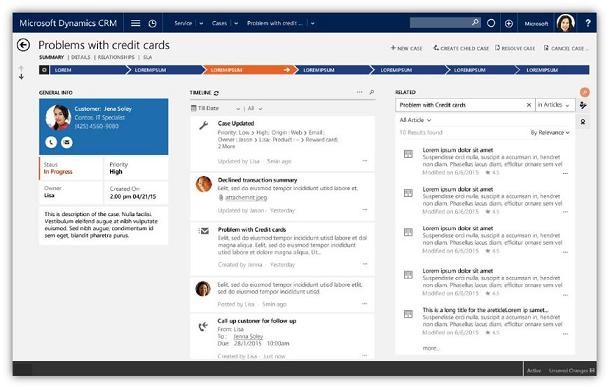 Microsoft Dynamics CRM 2016 was released late in 2015, and since then we've been going over the many capabilities you'll find delivered with it. At this point we've gone over a lot, including marketing, sales, and customer service improvements and new tools, as well as enhancements to CRM for Outlook, Excel integration, and the user experience. But there's more to say about the new user experience, as the case form design has seen improvement as well.
The case form design enables agents to find and act on data with fewer clicks and navigation. It brings together customer interactions and all related information, so agents can be more productive and view what is most relevant at all times. The Guided Business Process has been further enhanced to show process stage information as a fly out. The timeline (Interaction Wall) enables rich time and record based filtering capabilities.
Quick actions on a search result enable you to perform every day functions with ease, such as marking a task as complete or responding to a customer's email. The Reference Panel is geared toward a highly configurable experience that empowers you to easily set it up so that it always shows the most relevant related data. Agents have full access to the customer record and can see recent cases, eligible entitlement, and any other relevant information. With integrated knowledge, agents can deliver solutions to customers across channels. This design pattern extends to other entities such as Account and Contact, as well as Activities.