March 1, 2016 10:38 am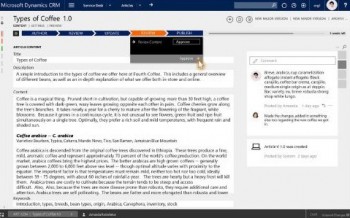 Microsoft Dynamics CRM 2016 was released late in 2015, and since then we've been going over the many new capabilities you'll find delivered with it. At this point we've gone over a lot, including marketing, sales, and customer service improvements and new tools, as well as enhancements to CRM for Outlook, Excel integration, the interactive service hub, and the case form design. That's a whole lot of "new" and "improved," and we're still just getting started.
Microsoft Dynamics CRM 2016 also brings improvement to external party access. External party access is the foundation in the system that enables external parties, such as employees that are not on Microsoft Dynamics CRM, customers, and partners to access CRM data that is relevant to them, and that they have the correct level of permissions to access. External party access is an enhancement to the CRM API and SDK that enables integration, access, and actions by contacts, partners, or other third parties that you want to be able to access the system.
Knowledge management has also been improved. The enhanced knowledge base and global content model in Microsoft Dynamics CRM enables you to create a single source of knowledge for the whole organization. A new content editor and editing experience helps teams keep knowledge articles approved and up to date. The curation process has been inspired by a knowledge-centered support methodology.
You can create a customized library for business information, product guides, data sheets, and other articles with timely and relevant information. New articles can be based on templates that define the structure for different article types, such as the question and answer sections of an FAQ. You can link an article to a case, or even send articles to customers in email.