March 14, 2016 9:45 am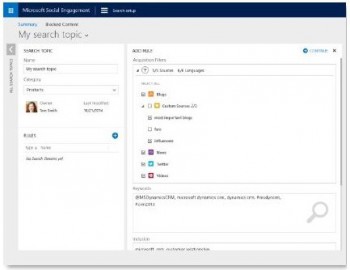 It's become a socially connected world, the internet world, that is, and Microsoft Social Engagement in Microsoft Dynamics CRM puts powerful tools in the hands of your sales, marketing, and service teams, enabling them to connect on social media with your customers, prospects, and partners right within CRM. Discover social insights about your brand, products, and services so you have a true understanding of sentiment about your business. Microsoft Social Engagement empowers you to reach and engage your customers in ways never before possible.
Social listening and social analytics tools have been able to mine Twitter, Facebook, WordPress and Tumblr blogs, YouTube videos, and News, but with the latest version of Microsoft Dynamics CRM, you can now also search message boards/forums and custom sources via RSS, including non-public sources such as Yammer.
And previously, the system worked with the following sentiment and localization languages: English, French, German, Italian, Portuguese, and Spanish. But now, Microsoft Dynamics CRM 2016 has added 14 additional languages: Arabic, Chinese, Danish, Dutch, Finnish, Greek, Hebrew, Japanese, Norwegian, Polish, Russian, Swedish, Thai, and Turkish.
Social engagement has become more intelligent in Microsoft Dynamics CRM 2016 as well. Role-tailored views help sales people to find leads, understand the social buzz around targeted accounts, and share content with their colleagues.
To increase team efficiency for sales and service organizations, Microsoft Social Engagement will automatically detect potential leads and cases. This increases sales performance through suggestions on leads coming in from social channels, and it increases team efficiency for service organizations by identifying potential cases coming in through social channels. Through adaptive sentiment, Microsoft Social Engagement will learn from curations of sentiment values to create domain specific models.